November 30th, 2009 by Col Dr D S Grewal
In 1986-87, I was posted as a Major, at an army outpost in the village of Segang-Menchukha in the north western corner of West Siang District of Arunachal Pradesh, India. One night I was woken up in the middle of the night by loud and persistent knocking at my door. "Who could it be at this time?" I wondered. When I opened the door, I found it to be the village headman, locally known as the Gaon Burha. He was in an obvious state of distress and told me that his son was dying of a very severe pain in his stomach and if I would send for a doctor. I considered it fit to check the patient myself before I telephoned the doctor, who was some distance away and the track was quite hazardous. I decided to accompany the Gaon Burha.
He led me to his wooden hut, which was divided into two, the portion in front was for cooking and at the rear was the living room where I found a young boy writhing in pain and crying. As a precautionary measure, I had taken some pain-killing and digene tablets with me, which I offered to the sick boy. A Lama who was standing nearby, told the boy not to take the medicine. It puzzled me but there was little I could do because the Lamas are held in great esteem for all matters by the very superstitious people of the area
However, immediately after, the Lama started saying a prayer obviously in order to appease the evil spirits. He first fashioned an idol with rice and butter, lit some incense and to the accompaniment of the ringing of a bell, started murmuring his prayers calling 'Nanak' 'Nanak' . After he had finished doing so, he took the incense to the bedside of the sick boy, read out" Om Mani Padme Hum' to him and then asked him to take the medicine I had given.
The idol that the Lama had made aroused my curiosity. I asked him as to whose idol was it that he worshipped. "Nanak Lama,' he said. I must say I was quite perplexed with his answer because I never expected anyone in this area, nearly 2000 kilometers away from Punjab, would know anything about Guru Nanak much less worship his idol. I probed him for further details. He told me: "We worship Nanak Lama and consider him as one of our Guru Rimpoches. We call him Nanak Lama of Amritsar also. His idol is worshipped in our gompha on Dorgilling Hill. It is said that the Guru visited this area and meditated at Pemoshubu. Pemoshubu lies about 15 kilometers away from where we were.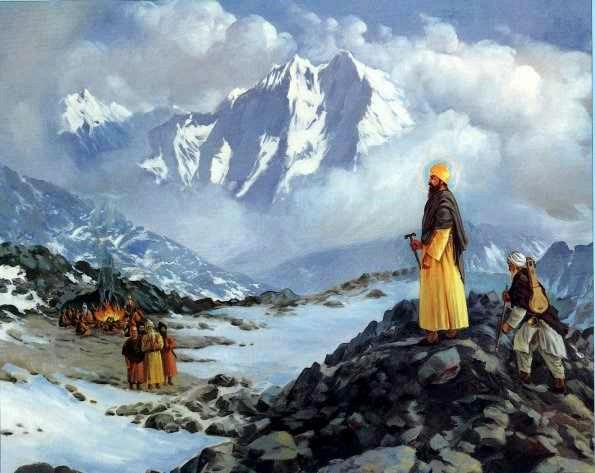 "During his meditation at Pemoshubu," continued the Lama, "the Guru was attacked by a bear but the huge boulder, under which the Guru was meditating, lifted him up and took him in its lap. According to this legend the bear could do nothing and therefore soon after made his retreat. The marks of the Guru's body are still etched on this boulder and we often go there to worship every year in the last week of the month of March, because that is the month when the Guru is said to have come here. A fair is held to commemorate Guru Nanak's visit.
Source:The Sikh Lamas of Arunachal Pradesh | SikhNet