During the catastrophe that befell in crossing the flooded Sarsa river, the companions of the Guru Gobind Singh ji and his family were scattered in different directions. Mata Jit Kaur, Mata Sahib Kaur and their two female attendants, Bhai Mani Singh, Dhana Singh and Jawahar Singh, were all together in one group. Jawahar Singh who was an inhabitant of Delhi, took this whole group to his house in Delhi.
Guruji's old mother and his two younger sons, went with Gangu Brahman to his village Saheri near Morinda. Gangu worked in Guru's kitchen for twenty-one years. Guru's mother, Mata Gujri was carrying money in a bag. Seeing Mata's money, Gangu got tempted forgetting that he ate Guru's salt for twenty-one years. As Mata Gujri was half-asleep, Gangu stole the money and shouted, "Thief, thief, " to create the impression that some thief stole the money. Mataji encountered Gangu and told him that she did not see anybody else entering the house. Upon this he tried to defend himself by saying that he was being blamed because he had given shelter to the homeless and the outlawed. Instead of admitting his guilt, he ordered them to leave his house.
Gangu finally handed them over to the police officer of Morinda who in turn took them to Wazir Khan, the viceroy of Sirhind. They were imprisoned in a tower(Thanda Burj).
(Thanda Burj)
Next morning the two children,
Zorawar Singh
and Fateh Singh, were presented in the court of the viceroy. Wazir Khan reflected that if the children became Mohammadans, it would be a glory to his faith- Islam. He, therefore, told them that if they accepted Islam, he would grant them an estate, would marry them to the princesses and they would be happy and be honored by the Emperor. The nine years old Zorawar Singh replied,
" Our grandfather, Guru Tegh Bahadur, parted with his head but not with his religion and he ordered us to follow his example. It is best that we should give our lives to save the Sikh religion and bring down God's vengeance on the Turks."
Continued Zorawar Singh,
"O viceroy, I spurn your religion and will not part with my own. It has become the custom of our family to forfeit life rather than faith. Why do you seek to tempt us with worldly ambitions? We shall not be led astray by the false advantages of your offer."
Wazir Khan could not endure such an outspokenness and got very angry. He decided that he must put these children to death.
Sucha Nand, a Hindu minister supported Wazir Khan by implying that their arrogant words were uncalled for. He ignited Wazir Khan's anger by saying that when these children grew up, they would follow their father's foot steps and would destroy enemies. Therefore, this progeny of a cobra must be smothered in time. At that time, Nawab Sher Mohammad Khan of Maler Kotla interceded, "O viceroy, these children are still drinking milk in the nursery, and are too young to commit an offence and know not good from evil.
The holy Quran does not allow the slaughter of innocent and helpless children. Therefore be pleased to release them." In spite of his appeal, the Qazi confirmed that the holy law would give the infidels the choice between Islam and death. It is said that in order to bring the children to submission to Islam, they were made to enter, next day, through a very small door while the Quran was displayed on the other side. The idea was that as the children would enter the door with their heads down, they would then be told that they had bowed to the holy Quran and thereby to Islam.
When the children saw that trap, the seven years old Sahibzada Fateh Singh threw his feet first instead of his head while entering through the small door. Throwing the feet towards the Quran meant an insult to Islam.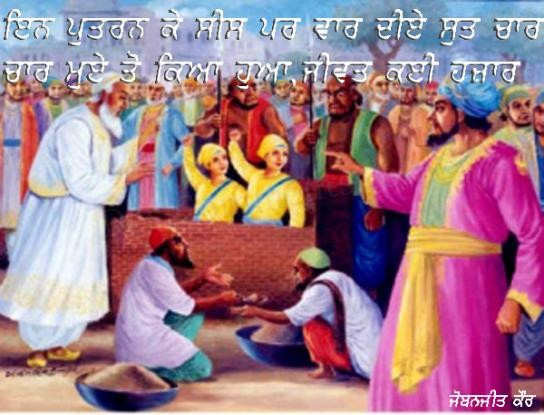 Wazir Khan, therefore, could not conquer the nine and seven years old children of Guru Gobind Singh. When every effort failed to convert the children to Islam, it was finally ordered that they should be bricked alive in the wall.
Bhai ZORAWAR SINGH (1696-1705), the third son of Guru Gobind Singh, was born to Mata Jito ji at Anandpur on 28 November 1696 and was barely nine years old at the time of the evacuation of Anandpur on the night of 5-6 December 1705. Since the death, on 5 December 1700, of Mata Jito ji, Mata Gujari, his grandmother had been especially attached to young Zorawar Singh and his infant brother, Fateh Singh. She took charge of both as the column moved out of Anandpur.
Bricks where Baba Zorawar Singh Ji (Aged 7 years) and Baba Fateh Singh Ji (Aged 5 years) were bricked alive to martyrdom.
Bhai FATEH SINGH (1699-1705), the youngest of Guru Gobind Singh's four sons, was born to Mata Jito ji at Anandpur on 12 December 1699. After the death of his mother, on 5 December 1700, he was brought up under the care of his grandmother, Mata Gujari Kaur ji, with whom he remained till the last. On 26 December 1705, he was martyred at Sirhind along with his elder brother, Zorawar Singh. He is probably the youngest recorded martyr in history who knowingly laid down his life at the very tender age of 5 years. Sahibzada Fateh Singh and his older brother, Sahibzada Zorawar Singh are among the most hallowed martyrs in Sikhism.
ਹਮ ਜਾਨ ਦੇ ਕੇ ਔਰੌਂ ਕੀ ਜਾਨੇਂ ਬਚਾ ਚਲੇ
ਸਿੱਖੀ ਕੀ ਨੀਵ ਹਮ ਹੈਂ ਸਰੋਂ ਪਰ ਉਠਾ ਚਲੇ

ਗੁਰਿਆਈ ਕਾ ਹੈਂ ਕਿੱਸਾ ਜਹਾਂ ਮੇ ਬਨਾ ਚਲੇ
ਸਿੰਘੋਂ ਕੀ ਸਲਤਨਤ ਕਾ ਹੈਂ ਪੌਦ: ਲਗਾ ਚਲੇ

ਗੱਦੀ ਸੇ ਤਾਜੋ-ਤਖ੍ਤ ਬਸ ਅਬ ਕੌਮ ਪਾਏਗੀ
ਦੁਨੀਆ ਸੇ ਜ਼ਾਲਿਮੋਂ ਕਾ ਨਿਸ਼ਾਂ ਤਕ ਮਿਟਾਏਗੀ

ਠੋਡੀ ਤਕ ਈਂਟੇਂ ਚੁਨ ਦੀ ਗਈਂ ਮੂੰਹ ਤਕ ਆ ਗਈਂ
ਬੀਨੀ ਕੋ ਢਾਂਪਤੇ ਹੀ ਵੁਹ ਆਖੋਂ ਪ: ਛਾ ਗਈਂ

ਹਰ ਚਾਂਦ ਸੀ ਜਬੀਨ ਕੋ ਘਨ ਸਾ ਲਗਾ ਗਈਂ
ਲਖ਼੍ਤੇ-ਜਿਗਰ ਗੁਰੂ ਕੇ ਵੁਹ ਦੋਨੋਂ ਛੁਪਾ ਗਈਂ

ਜੋਗੀ ਜੀ ਇਸ ਕੇ ਬਅ਼ਦ ਹੁਈ ਥੋੜੀ ਦੇਰ ਥੀ
ਬਸਤੀ ਸਰਹਿੰਦ ਸ਼ਹਿਰ ਕੀ ਈਂਟੋਂ ਕਾ ਢੇਰ ਥੀ
-Allah Yaar Khan
The eminent Hindi poet,

Maithilli Sharan Gupt

commemorates the Saka Sirhind in his poem:

Jit kul, jatti, desh ke bachche,
de sake hain balidan,
us desh ka vartman kuchh bhi ho
par bhavishya hai maha mahan....
Jogi
Allah Yaar Khan Says...
Bas ek hi tirath hai hind mai yatra ke liyeee
kataye jaha bete, baap ne khuda ke liyeee
ਜਿਸ ਖ਼ਾਲਸੇ ਲਈ ਗੁਰੂ ਸਾਹਿਬ ਨੇ ਸਰਬੰਸ ਵਾਰ ਦਿੱਤਾ........ਉਸ ਖ਼ਾਲਸੇ ਨੇ " ਸੁਚੇ ਹੰਝੂਆਂ ਵਿਚ ਭਿੱਜੀ ਦਾਸਤਾਂ " (ਸਾਹਿਬਜ਼ਾਦਿਆਂ ਦੀ ਸ਼ਹੀਦੀ) ਦੇ ਆਦਰਸ਼ ਨੂੰ ਆਪਣੇ ਜੀਵਨ ਵਿਚ ਵਸਾਉਣ ਦਾ ਜਤਨ ਵੀ ਨਾ ਕੀਤਾ....
.